FORUM Magazine


This is produced quarterly and the current subscription (June 2015) is £12 for the UK, £12.50 for Europe and £15 for the rest of the World. We are always pleased to receive items for inclusion, articles of interest, poems and photographs and updates from the Rescue dogs in their new homes. Please send these to Jean Stone. Each new Rescue owner has copies sent to them free for the first year.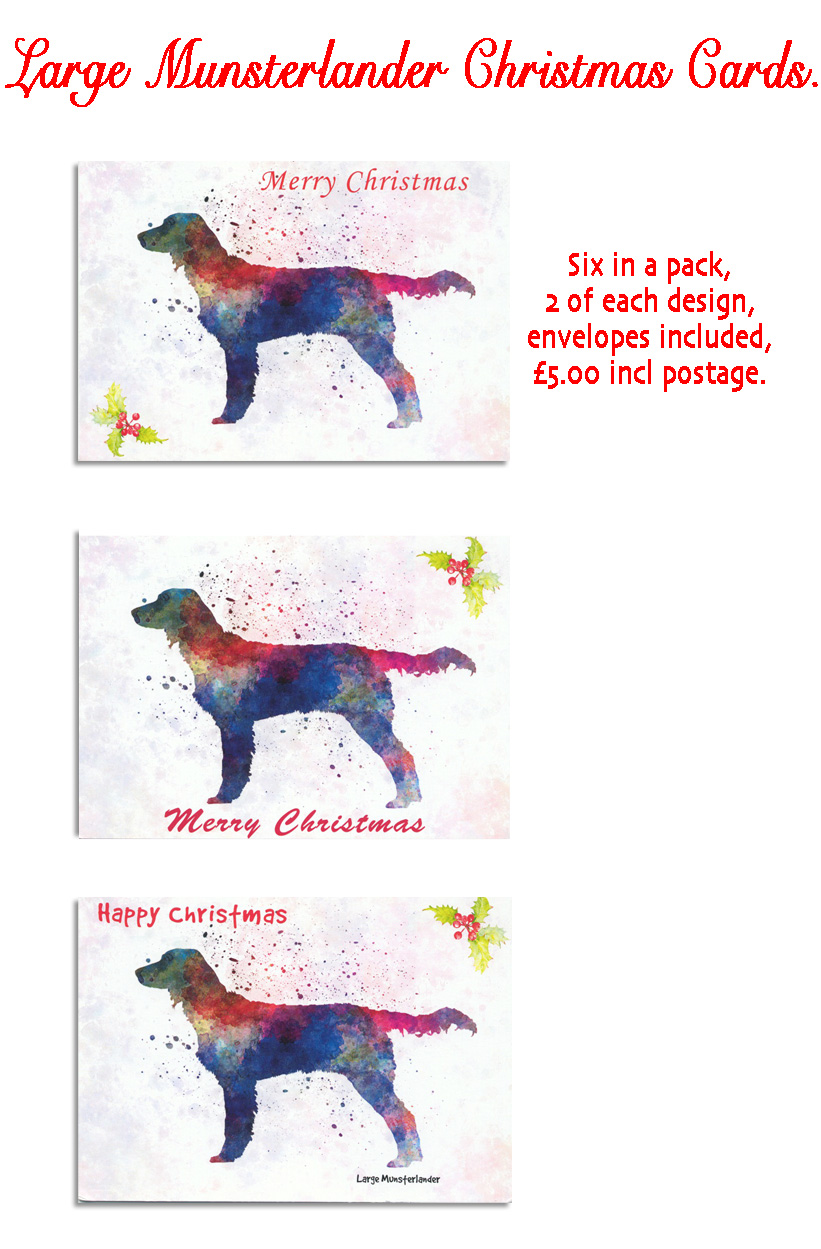 Paraphernalia
We have a small selection of items for sale featuring our Rescue logo. We can offer trolley key rings, car stickers, tote bags, pens and ceramic ring clips/badges. These are all quality items and if you have not yet purchased any, what are you waiting for. !!!

Current prices are:-

Ceramic Show ring clip / badge 1.25 inch diameter.

Quality item,everyone should have one.

£2.00 each

Car Sticker
5 inches diameter.

Tell everyone you are a supporter.

£1.00 each

Trolley key ring.

We all need these so why not a LMR one.

£1.50 each

Ballpoint pens.

£1.00 each or £1.50 for two.

Well we all need pens so buy a bunch.

Please add postage when ordering these items, £1.20 for single items. For a bulk bunch of items contact Jean to make sure postage is covered.

Calendars and Diaries.


Our calendars and diaries feature both our Rescued dogs and those of our friends and supporters. The calendars and diaries are ring bound, the calendars are A.4 sized and the diaries are A.5. Christmas cards are also available subject to photos of snowy Munster scenes being made available.

Clothing by Special Order.


Our friends at Emblem Embroidery offer some very nice clothing and these are available by special order. If you need polo shirts, t-shirts, sweatshirts or body warmers these come in all sizes and feature our embroidered log. Most colours are available. If you would like a quote for any of these items, then please contact Rae Massey.
FUN DOG SHOWS & FACEBOOK PAGES
These are held occasionally in either Lincolnshire or South Yorkshire and are run by our friends and supporters. These will be well advertised in the local press and on facebook.
The biggest change to fund raising over recent years has been setting up our facebook pages. Firstly, Large Munsterlander Rescue UK is a general page where we can have for sale items, news about the dogs and photographs. The items for sale are at a set price. To join this page and participate in this friendly group, go to the page and request to join and one of the Admins will confirm your request.
The same goes for our Large Munsterlander Rescue Auction Group, so you can join this in the same way. Here we feature all the things that our kind supporters place for auction to raise funds for Rescue. We have had holidays, jewellery, ornamental figurines, clocks and watches and so much more. It is easy to add items, set a starting price, postage and packing cost, and a finishing time and date. You can bid on any of the items as your profile will come up with the bid amount – keep an eye on the bidding as it can get busy towards the close. The person who placed the item for auction will confirm the winning bid and you can then send a cheque for the bid amount, plus postage to Rae Massey and when this is received, your item will be despatched to you.
As a rule of thumb, cheques (all made payable to Large Munsterlander Rescue) for merchandise, donations and auctions are sent to Rae Massey (see contact page for details) and cheques for F.O.R.U.M. subscriptions, cards, calendars and diaries are sent to Jean Stone.